Personalized Desk Calendar for 2024: Transform Your Workspace in Malaysia
Welcome to Calendar2U Malaysia Calendar, where creativity meets functionality. Elevate your workspace for 2024 with our personalized desk calendars, exclusively designed for Malaysia.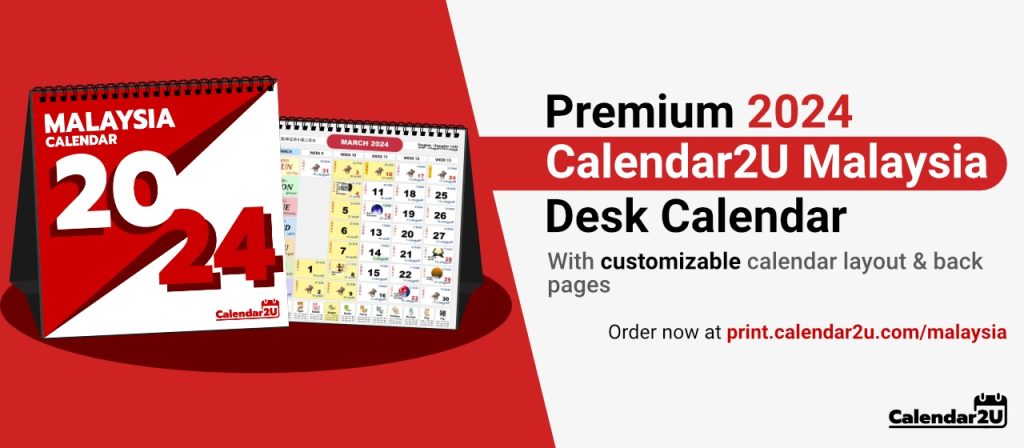 Unleash Creativity with Personalized Touch
Discover the power of personalization at Calendar2U Print. Choose your favorite photos to create a desk calendar that speaks volumes about your cherished memories. Capture the essence of special occasions and celebrate the beauty of everyday life right at your desk.
State-Specific Holidays: A Malaysian Celebration
Make your desk calendar uniquely Malaysian with pre-configured state-specific holidays for 2024. From vibrant festivals to public holidays, our calendars reflect the diversity and uniqueness of Malaysia's cultural tapestry.
High-Quality Printing for Lasting Impressions
At Calendar2U Print, quality matters. Our desk calendars feature high-quality printing for vibrant and lasting images. Every detail of your chosen photos will come to life, ensuring your desk calendar becomes a stunning centerpiece in your workspace.
Exclusive Shipping to Malaysia
Exciting news for our Malaysian customers – our personalized desk calendars are exclusively available for shipping to Malaysia! Whether you're in Kuala Lumpur, Penang, or Johor Bahru, bring a touch of personalized elegance to your desk.
Limited-Time Offer: 10% OFF Your First Order!
To kick off this celebration of memories, enjoy an exclusive 10% discount on your first order. Use code C2UMY2024 at checkout. Act fast; this offer ends soon, and you wouldn't want to miss the chance to start the new year with a personalized touch.
How to Get Started
Creating your personalized desk calendar is a breeze. Visit our website at print.calendar2u.com/malaysia, explore our design options, and let your creativity flow. Follow our user-friendly customization process, and in no time, you'll have a desk calendar that tells your unique story.
Conclusion
Transform your desk into a masterpiece with a personalized desk calendar for 2024 from Calendar2U Print. Embrace the memories, celebrate the holidays, and welcome the new year with a workspace that reflects you.
Start customizing your desk calendar today and let the countdown to 2024 begin!